Connectors, Terminations and Fittings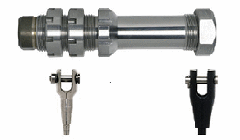 During the last ten years, LAPP MULLER has developed a know-how specifically recognized in the field of electro-optical cables equipped and ready to be connected.
Our average technique enables us to propose solutions, powerful cableconnector-terminations perfectly adapted to the specifications of our clients.
We propose the choice of the standard connectors and also assemble them with our cables in the strict respect of the standards, in close cooperation with the manufacturers of connectors, in order to guarantee the best solutions.
In the same way, we study and carry out systems of resumptions of efforts, connector industries, specific moulds and/or limiting device of curve on self-supporting aerial cables and carriers in braids or tablecloths of steel or synthetic fibres high tenacity, by ensuring the integrity of the interface. We can also equip our cables for machines towed with rigid or flexible hulls intended to improve the hydrodynamic behavior.
Our offer can be supplemented by products adapted such as:
We have a standard range of terminations, resumptions of effort and sleeves for our synthetic fibre cables high tenacity.
These eye-ball terminations are in various types of materials: anodic treated aluminium (colors), galvanized steel, stainless, titanium...
We carry out with the request the file of definition and realization including/understanding the plans, the nomenclatures, the recommendations of assembly and use, etc...
- Stuffing boxes out of plastic or metal
- Obturators Supports and single pipe rings
- Sheaths and braids of protection
- Car-cables in braid steel
- System of Fleximark location